hello
---
---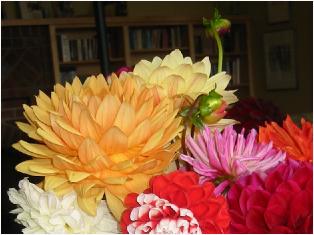 Bandon Organic Farmers Market find. I should have begun a new page, this one is probably getting painfully slow loading for slow connections. next post will be new page. I felted something fun yesterday.....
---
Aug 18 :: my very own temple hat.
Even when I started out to work from a pattern that I wrote, I ended up just taking flight from the beginning idea...I chose Jade Sapphire silk instead of Silk Purse, its quite a bit weightier, so that I am stranding on #8 needles instead of 5's, and I would like the top to come out a bit wider then this does, so I'll be adding some increase rounds before starting down on the brow. What I think is genius is the pattern formed by the method of increasing. One thing that got edited out of the final pattern is my method of using one needle per increase section. I always have more than one set of double points in every size so that I can do this... Jade Sapphire colors are Ruby Rose and Anya's Garden, this being some of my happy purchase from Threadbear.
During the time of creating the patterns I thought I had done enough stranding to last me a lifetime, but find I am enjoying it very much. I have no great skill with stranding, I have to drop each yarn and pick up the other for each stitch. Slow is fine with me. Only a small step from here to start moving these stranded lines to form shapes.
---
Aug 13 :: before and after, catbed made from elann's highland wool, which I think felts very nicely. on the above photo you can see the small swatch I measured from which gave us all illusions of cats in hats. I feel a felting frenzy coming on.
---
August 9 :: giving up for now trying to get a better shot, this is ColorMe wooltop, firey colorway, my first handspun project, using an old Vogue pattern, fall/winter 1986. fits and feels good
---
August 8 :: someone's got a pair of brand new fuzzy feet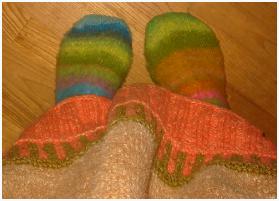 have also finished a bee-you-tea-full red hat from my own spinning, but cannot seem to get an unfuzzy photo. also cannot stop being amazed that I made yarn.
---
August 1 :: sculpting daydreams
if you are like me and can't get enough of this, here is another close-up. This was an idea given by Cat Bordhi at Moebius Festival, the idea being to work a moebius back and forth in short rows trying only not to repeat yourself. It was mesmerizing to work on, and my mind traveled off on so many "what if" tangents, as, what if every section was the same repeat, what if they were lace, what if they were entrelac-like, on to thinking about this sort of knitting becoming sculptural. I am not a great fan of garter stitch, but with Silk Garden it is quite acceptable.
Aug 23 :: brand new hat
my not following my own pattern temple hat. its been out for a few walks. one of my motivations was wanting to fold the ear flaps up when i get heated up outdoors, i haven't figured exactly how to do this yet. the button box has a few inspirations, i think i may just create a fancy knot that stays tied low and allows me to just flip up the flaps. i didn't use the fancy cable stitch from the pattern, just a 1x1 rib so it would look same flipped up.
clicking for larger views gets you mostly sweet shots of my bathrobe, which was my happy summer knitting last year. i wore it a lot while Ben visited last year. One more week and he will be here again. grateful, happy, lucky grandma.
knitting question...
"how do you create button holes in i-cord?"
---
August 16 :: My dear Robin and his Hailey, on a recent visit, cuddled under the Map of the World afghan, another proud-bubble in my knitting-life. the world is upside down in this picture, thats a gray Greenland and green Canada, golden U.S, and colorfull Europe...
Isn't it a wonderful thing that the Oregon Coast climate allows for blanket cuddling in August?
Beginning 2 week count-down till Benjamin and his Dads come to visit. mmmmmmmmmmmmm
---
August 13 :: proud bubbles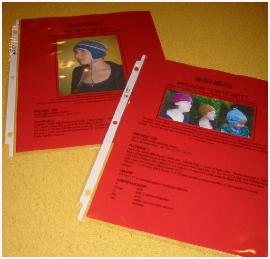 Temple Hat(above-left) and Oregon Coast Hat are now absolutely real in the world. Here is my page about their creation, where you can see knitted samples. Some-wonderful-one from Alchemy "mathed" up the temple hat from my child version to adult(both sizes included in pattern). that is definitely on my to-knit list now. Gina also sent along some samples of their newest fibers, a cashmere/silk blend (70/30) named Monarch, a wool/silk blend (70/30) named Sanctuary and a lace weight mohair/silk blend (60/40) named Haiku. Have a nice swatching time ahead of me. May your weekend be as bliss-full
---
August 13 :: happy color art form
another art-full place to wonder. thankyou Brianna for sending me there.
---
Aug 12 :: slow art form
here is a wonderful place to wonder with your art-self. thank you, Janet, for sending me there.
---
Aug 7 :: other visitors
to round out the post from my visit with Janet, here are pictures of 2 other visitors, taken by her dear husband Roy, if you have the time take a look at them big. nature is such a fine artist.
August 2 :: spinning date
had a wonderful morning of attempted spinning at the home of knitkit.com (note one 'constant companion' Isaac nestled near Janet's knee) I liked the Ashford charka even tho I ended up in some humorous positions trying to keep up with it. Later in the day I got weepy happy hearing for the first time the whir of a Joy Spinning Wheel and spent some time practicing peddling same.
It was a good day.
---
August 1 :: 2 from 1
here are 2 baby hats from one skein of Misti Chunky Alpaca (available through Threadbear) on the right is newborn (14") and left is 15+" ...did left one last and with a few more yards I would've made it a bit longer, but perhaps fit will be just perfect anyways. clicking for bigger view is quite big as I love showing off the tiles (Pratt&Larson)
family photos for July, without commentary, lots of reunion shots but also photos from Threadbear.
Here is the first shot in my August photo collection, 2nd actually, the first being the baby hats.
~::~